Not only famous for beautiful tropical beaches, friendly people or good food, Vietnam is also a destination for the itch to explore culture and history within you. Today, we take a look into a special architecture in Huế, the former imperial capital of Vietnam, which is none other than The Imperial Citadel.
The Imperial Citadel in Hue was not only the political but also the cultural and religious centre under the Nguyen Dynasty, the last royal dynasty of Vietnamese history, from 1802 to 1945. Located on the banks of the Perfume River, the complex is the heart of Hue city as well as a national pride. Walking through the majestic site, you will get a great feeling of history and oriental architecture style. You will see large buildings with well – decorated yellow tiles roofs and dragon artifacts on the roof edges, sometimes flowers and phoenixes motifs, too. The architecture inside is also interesting, where you can observe the red – and – gold meeting hall, painted ironwood pillars, ceramic tiled layered-roof and the Emperor throne. There are so many symbols hidden in every structure, beams and rafter, every wall and door. If you have been to China, you may see similarities in the imperial architecture, but also how Vietnamese craftsmanship had interpreted and adapted it in our own culture.
Another highlight for many visitors is the imperial garden. The combination of landscaping with small lakes, green trees and beautiful plumeria harbors romantic ideals. It also gives a surprising yet relaxing and peaceful moment after hour-long walking and exploring.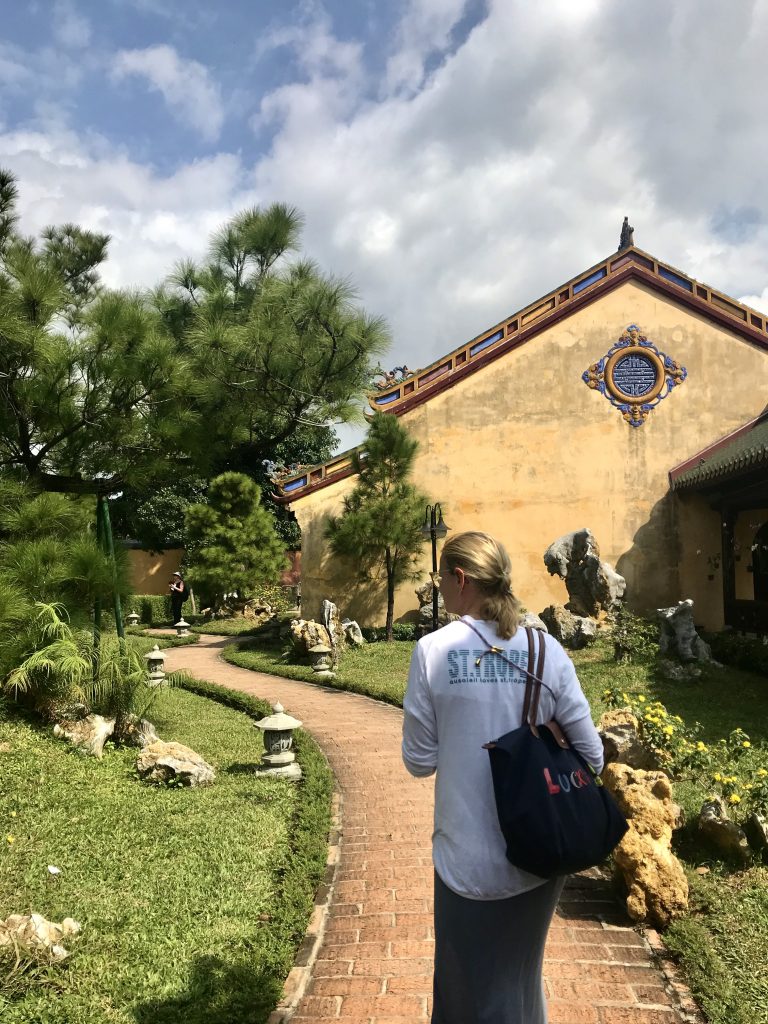 If your visit ends around late afternoon, you will get to see a glorious sunset, in which the colors of the golden walls, the red doors blend with the sunbeams in harmony. All the artworks will present themselves in their most classical beauty, in their glory.
You are going to find wandering through the ruins and historical buildings somehow take you back in time, where you can see the dreamlike royal palace and its outstanding surroundings. You are going to slow down, take everything in and leave with a quiet enjoyment, knowing that you have taken a step into history.
Although there were parts that got destroyed during the wars, the government, with support from UNESCO, has been restoring and rebuilding the monuments with standards of conservation to ensure the authenticity.
The Imperial Citadel in particular, and the city of Hue in general, is surely very impressive to see and are must-go places to understand the history of Vietnam.
Thanks
Lam