INDONESIA
NUSA PENIDA ISLAND TOUR
4 Day Nusa Penida Island Tour. Start in Sanur and catch the morning speed boat to Nusa Penida. Over the next few days you will explore the wild and rugged eastern Penida with lush landscapes and caves, then we head south for perfect beaches and stunning waterfalls.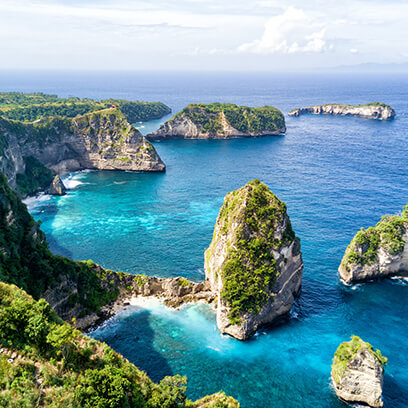 Sanur – Nusa Penida Island
Today our driver will pick you up at your hotel in the south Bali area drop to Sanur to catch morning speed boat to Nusa Penida.
Explore the Eastern of Penida Island
Today you'll explore the eastern part of Nusa Penida which is untamed, wild and rugged. It is made of beautifully soaring cliffs that drop down to secluded untouched beaches below.
Discover the Southern Part of Nusa Penida
Spend today exploring the southern part of Nusa Penida which is composed of gentle beaches and breathtaking cliffs over perfect ocean.
Return to South Bali
Around 3.00 PM, we will drive to Buyuk pier then take a fast boat to Sanur, upon your arrival in Sanur, we will escort you to your next accommodation (hotel on your own)
Time to say farewell after an amazing trip!
Selamat jalan – Have a good journey!