Experience ancient Luang Prabang on a local level. Explore the nature and local life and chill with a beerlao in Nong Khiew. Discover one of SE Asia's most awesome experiences – the Nam Et Night Safari. Visit revolutionary caves in Viengxay the mysterious Plain of Jars in Phonsavan before heading to Vang Vieng for some downtime then to Laos' sleepy capital – Vientiane.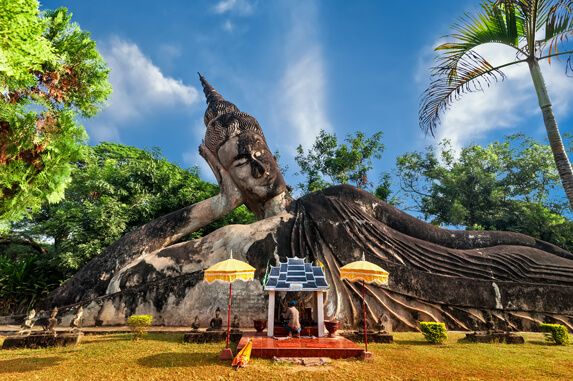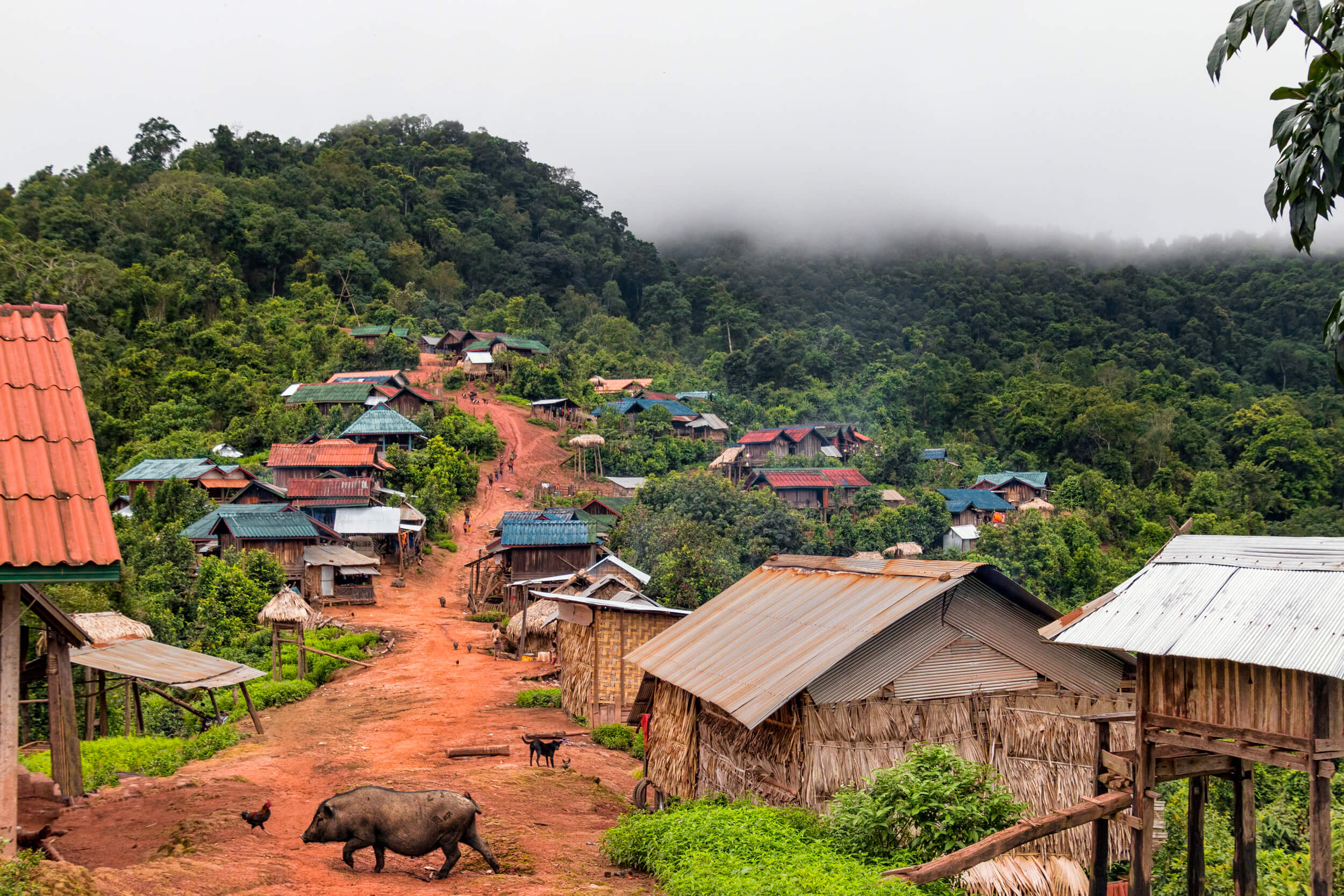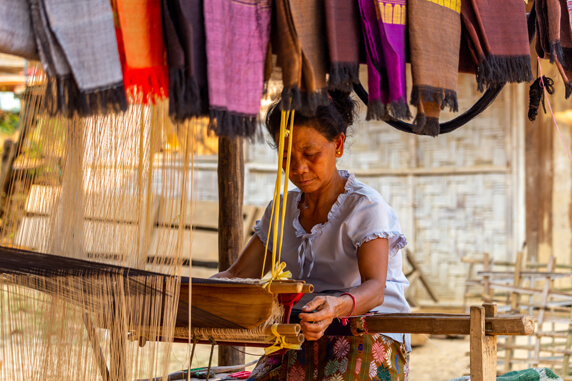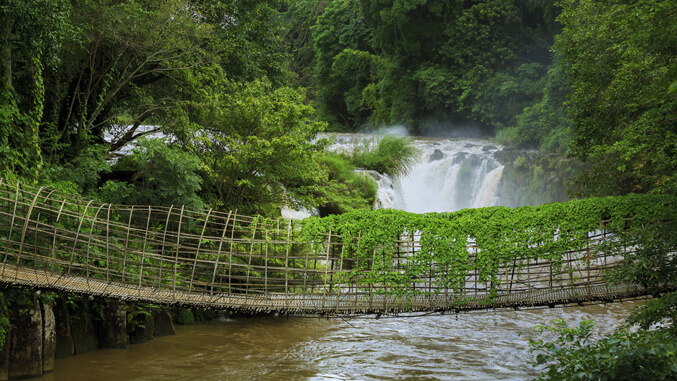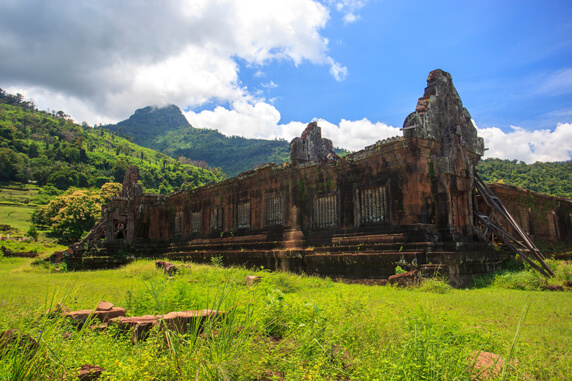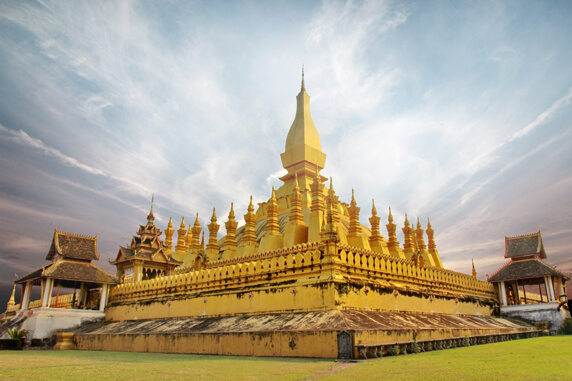 Arrival Luang Prabang
Arrive in Luang Prabang, pick up from the airport/bus station and transferred to your accommodation. Check out the night market and some awesome local food!
Luang Prabang
If you are an early bird you should not miss the alms giving ceremony that occurs every morning in the peaceful streets of Luang Prabang. Hundreds of monks flock out the many temples to collect alms from the locals. If you like, our guide can show you the best spots to enjoy this spectacle, away from the masses. And giving alms yourself is possible too. Your guide can help to prepare the alms for you. Spend the day exploring Luang Prabang!
Luang Prabang
Choose one of the following:
Living Land:
Would you like to see the process of planting and harvesting rice in the rice paddy? Come and spend half a day at the Living Land Farm, situated in an idyllic countryside setting surrounded by mountains in the middle of ancient rice terraces. Come and let us show you how rice is grown on our farm, experience the life of a rice farmer and try your hand at some of the activities. Or just view it all from the comfort of our traditional Lao rice house terrace. Meet some real Lao people and Rodolphe, our buffalo. Come and see how buffaloes are used to plough the rice paddies and try it for yourself! It is fun, it is educational, hands-on and eco-friendly!
Bamboo Experience:
You will be picked up at your hotel and transfer to Bamboo Experience's venue where you will have an interactive cooking class and 'bamboo weaving' exercise, learn about the importance of the ubiquitous bamboo plant to Lao culture. Would you like to see the process of Bamboo weaving and traditional Lao cooking class using bamboo shoot as main ingredient? Spend half a day in this workshop, it's located in a local village in Luang Prabang town.
Luang Prabang – Nong Khiew
Enjoy a free morning before you head to Nong Khiew, a small town on the banks of the Nam Ou River. Few years ago a boat trip from Luang Prabang to Nong Khiew was a real highlight, but these days the dam build on the Nam Ou River makes this impossible. On arrival in Nong Khiaw, settle in and enjoy a cold Beer Lao on the riverbanks.
Nong Khiaw
Today you can chose between different full day activities in the beautiful surrounding of Nong Khiaw, trekking, kayaking, cycling or zip-lining.
Trekking: Nong Khiaw – Ban Huai Lek – Ban Huai Khong – Ban Sop Van
Approximately: 5 hours trekking
Cycling: Nong Khiaw – Ban Vieng Kham – Na Louang – Ban Pha Yong
Approximately: 5 hours cycling / 1 hour walking
Zipline:
We depart from Nong Khiaw at 8:30 am head 12 km east to the starting point, where we will start to trek. The trail passes through a bamboo forest and jungle, giving us the chance to hear and see wildlife (around 20 min trek), until we reach the Zipline area.
Kayaking: Nong Khiaw – Muang Ngoi – Nong Khiaw.
Nong Khiew – Ban Son Koua
Today you will leave Nong Khiew around 10 am for a drive to a small village near the Nam Et Phou Leuy National Park. You will most likely overnight in Viengthong. The drive takes around 5 hours with breaks to stretch your legs.
Night Safari
Village guides and boatmen will be awaiting you to greet you and take you on a short tour of the village where you will learn about daily life and the animist tradition of appeasing the village spirits.
At around 10-11am guests embark on a 1.5-2 hour journey to the park substation and visitor camp on the Nam Nern River by long-tail boat, along the way learning about upland rice cultivation and having opportunities to spot monitor lizards (depending on the time of year) and bird life.
Night Safari – Viengxay
Before breakfast, local guides take you on a walk around the jungle, teaching about the use of some medicinal plants and explaining the history of the site, which was once a major settlement during the Secret War. After breakfast, the boats will return back to the village.
Viengxay – Phonsavan
Today we start early, around 7 am, because there is much to see and to be honest another long drive is waiting in the afternoon. But first we start the day with one of the most impressive sights of Laos. The Viengxay caves are an extensive network of caves in the limestone mountain of Viengxay. Four-hundred eighty of these caves were used by the Pathet Lao during the Second Indochina War to shelter from American bombardment. Up to 23,000 people lived in the caves, which contained a hospital, a school, Pathet Lao offices, bakeries, shops, and even a theatre. The area was home to the Communist army, who were fighting the royalist forces, based in Vientiane. The caves were used for living and working in because the U. S. Air Force was bombing the area so heavily. Locals say that farmers had to farm at night to avoid bombing raids.
Phonsavan
After the long day you might want to start a bit later today. Or you can rise early and enjoy the sunrise on one of the Plain of Jars sites. The Plain of Jars (nominated for UNESCO World Heritage status), an impressive archeological site where hundreds of large stone jars are littered all over the plateau and no one really knows who carved these impressive artifacts or how they got here. Xieng Khouang Province was one of the most heavily bombed places on Earth and there are many relics of these dark days. Unexploded bombs are a huge problem for the locals and especially children and farmers are endangered. Visit the Jar sites, UXO centre, MAG (Mine Advisory Group). Visit the QLA association and end with a visit to the Lone Buffalo project.
Phonsavan – Vang Vieng
Today another 6 hours long drive awaits you so if you want you can check out another site of the Plain of Jars for sunrise. After breakfast we head west towards the beautiful and infamous town of Vang Vieng.
Vang Vieng
During the Vietnam War, Vang Vieng expanded significantly when the US constructed an air force base here that was used by Air America, the notorious airline operated by the CIA and other government agencies. The huge airstrip will be the first thing you see, splitting the town in two parts. The area around the river is full with hotels, restaurants, shops and bars, a real Backpacker paradise.
Choose one of the following:
Caves & Kayaking (Tubing):
Start the day by exploring some of the caves in the area, Tham Xang (Elephant Cave), Tham Hoi (Snail cave). The Tham Nam Water Cave is only approachable with a tube, so bring your swimwear. We continue to the Nam Song River where we start the kayaking.
Caves & Cycling:
Cross the Nam Song River by bamboo bridge before starting off the day with exploring one of the most unusual caves in the area, Tham Poukham (Blue Lagoon) the amazing "Cave of the Golden Crab". After this we shall head off via mountain bike on a tour which covers approximately 26km through the karst range of the Nam Song & Vang Vieng
Vang Vieng – Vientiane
Today we leave Vang Vieng after a late breakfast to continue to the capital of Laos, Vientiane. The drive takes 3 to 4 hours and on arrival you have time to get settled in your hotel. Explore the mysterious Buddha park.
Back in Vientiane you will be invited to a cool local beer garden to enjoy the sunset sitting on the mighty Mekong River, followed by a Lao Style Korean Barbeque in a wonderful garden setting if you like, our guide, who should be a good friend by now will be more than happy to accompany you to one of the many local beer shops, the likelihood is that you will be the only foreigner(s) around…no better way to get to know locals!
Departure Vientiane
Vientiane has not as much to offer to visitors as Luang Prabang and many people will advise you to skip Vientiane but last night should have proved us right. Many people, Locals and Foreigners alike, come here and never leave, making Vientiane their homes. Also not well known is that Vientiane has an amazing international food scene. So if you have eaten Local Lao Food for the last 2 weeks, you might welcome the great choice of good restaurants and eateries in Vientiane. And there are some awesome places to visit and things to see.